Los estudios de interpretación: una apuesta a la interdisciplinariedad
Palabras clave:
Estudios de Interpretación, Psicolingüística, Bilingüismo, Lingüística de Corpus, Lingüística Aplicada
Resumen
La práctica de la interpretación interlingüística ha sido una pieza fundamental para el desarrollo humano y el desarrollo de las relaciones humanas. No obstante, la investigación en torno a esta práctica no ha gozado el mismo interés en comparación con los estudios realizados en textos escritos, a pesar de poder abordar la práctica interpretativa desde diferentes perspectivas que ayuden a comprender, desde fenómenos propios y particulares de esta práctica, hasta fenómenos compartidos en otras prácticas comunicativas donde se implique otra lengua diferente a la materna. Este artículo presenta las bases teóricas que guiaron un trabajo doctoral en torno al uso y representación del español y el inglés como lenguas de trabajo empleadas durante dos prácticas de interpretación realizadas por alumnos en formación como intérpretes. De igual manera, se presenta de manera breve la metodología que se siguió, además de algunas conclusiones, específicamente la detección de efectos de priming interlingüístico, que permiten establecer un diálogo entre diferentes disciplinas como la psicolingüística, el bilingüismo y la lingüística de corpus.
Descargas
Los datos de descargas todavía no están disponibles.
Citas
Baddeley, A. (2003). Working memory and language: an overview. Journal of Communication Disorders, 36: 189-208.
Bendazzoli, C. (2010). Il corpus DIRSI: creazione e sviluppo di un corpus elettronico per lo studio della direzionalità in interpretazione simultanea. Tesis de doctorado. Alma Mater Studiorum Università di Bologna.
Bendazzoli, C. (2018). "Corpus-based Interpreting Studies: Past, Present and Future Developments of a (Wired) Cottage Industry". En M. Russo, C. Bendazzoli y B. Defrancq, (Eds.), Making Way in Corpus-based Interpreting Studies (pp.1-19). Singapor: Springer.
Bernardini, S., Ferraresi, A., Russo, M., Collard, C. y Defrancq, B. (2018). "Building Interpreting and Intermodal Corpora: A How-to for a Formidable Task". En M. Russo, C. Bendazzoli y B. Defrancq, (Eds.), Making Way in Corpus-based Interpreting Studies (pp. 21-42). Singapor: Springer.
Bogard, S. (2015). Los clíticos pronominales del español: estructura y función. Nueva Revista de Filología Hispánica, Tomo LXIII, (1), 1-38.
Desmet, T. y Duyck, W. (2007). Bilingual Language Processing. Language and Linguistics Compass, 1/3: 168-194.
Escudero Cabarcas, J. y Pineda Alhucema, F. (2017). "Memoria de Trabajo: El modelo multicomponente de Baddeley, otros modelos y su rol en la práctica clínica". En M. Bahamón, Y. Alarcón, L. Albor y Y. Martínez (Eds.), Estudios actuales en Psicología. Perspectivas en clínica y salud (pp. 13-42). Barranquilla: Universidad Simón Bolívar.
Gile, D. (2009a). Basic Concepts and Models for Interpreter and Translator Training, Revised Edition. Amsterdam/Philadelphia: John Benjamins Publishing Company.
(2009b). Interpreting Studies: A Critical View from Within. MonTI. Monografías de Traducción e Interpretación, 1: 135-155.
Hartsuiker, R. J., Beerts, S., Loncke, M., Desmet, T., & Bernolet, S. (2016). Cross-linguistic structural priming in multilinguals: Further evidence for shared syntax. Journal of Memory and Language, 90: 14-30.
Hartsuiker, R. J., Pickering, M. J., & Veltkamp, E. (2004). Is syntax separate or shared between languages? Cross-linguistic syntactic priming in Spanish-English bilinguals. Psychological science, 15 (6): 409-414.
Kroll, J. F., Dussias, P. E., Bice, K. y Perrotti, L. (2015). Bilingualism, Mind, and Brain. Annual Review of Linguistics, 1: 377-394.
Kroll, J.F., Dussias, P. E., Bogulski, C. A. y Valdes Kroff, J.R. (2012). Juggling Two Languages in One Mind: What Bilinguals Tell Us About Language Processing and Its Consequences for Cognition. Psychology of Learning and Motivation, 56: 229-262.
Maier, R., Pickering, M. y Hartsuiker, R. (2016). Does translation involve structural priming? The Quarterly Journal of Experimental Psychology, 70 (8):1575-1589
Mikkelson, H. y Jourdenais, R. (2015). The Routledge Handbook of Interpreting. Reino Unido: Routledge.
Pérez-Luzardo Díaz, J. (2005). Didáctica de la interpretación simultánea (Tesis doctoral). Universidad de las Palmas de Gran Canaria, España.
Plevoets, K. y Defrancq, B. (2016). The effect of informational load on disfluencies in interpreting: A corpus-based regression analysis. Translation and Interpreting Studies, 11 (2): 202–224.
Pöchhacker, F. (2004). Introducing Interpreting Studies. Reino Unido: Routledge.
Russo, Mariachiara, Claudio Bendazzoli, Annalisa Sandrelli, and Nicoletta Spinolo. (2012). "The European Parliament Interpreting Corpus (EPIC): Implementation and developments". En F. Stranjero y C. Falbo (Eds.) Breaking ground in corpus-based interpreting studies (pp.35–90). Bern: Peter Lang.
Sandrelli, A. (2012). Interpreting football press conferences: The FOOTIE corpus. En C. J. Kellet Bidioli (Ed.) Interpreting Across Genres: Multiple Research Perspectives, (pp. 78-101). Trieste : EUT Edizioni Università di Trieste.
Seleskovitch, D. y Lederer, M. (1984). Interpréter pour traduire 3ème edition. París: Publicaciones de la Sorbona.
Squire, L. R. (2004). Memory systems of the brain: A brief history and current perspective. Neurobiology of Learning and Memory, 82: 71-177.
Tulving, E. (1995). "Organization of memory: Quo vadis?". En M. S. Gazzaniga (ed.) The cognitive neurosciences (pp. 839–853). The MIT Press.
Ullman, M. T. (2005). "A cognitive neuroscience perspective on second language acquisition: The declarative/procedural model". En C. Sanz (ed.), Adult second language acquisition (pp. 141-178) Washington: Georgetown University Press.
Van-Gompel, R. y Arai, M. (2018). Structural priming in bilinguals. Bilingualism: Language and Cognition, 21 (3): 448-455.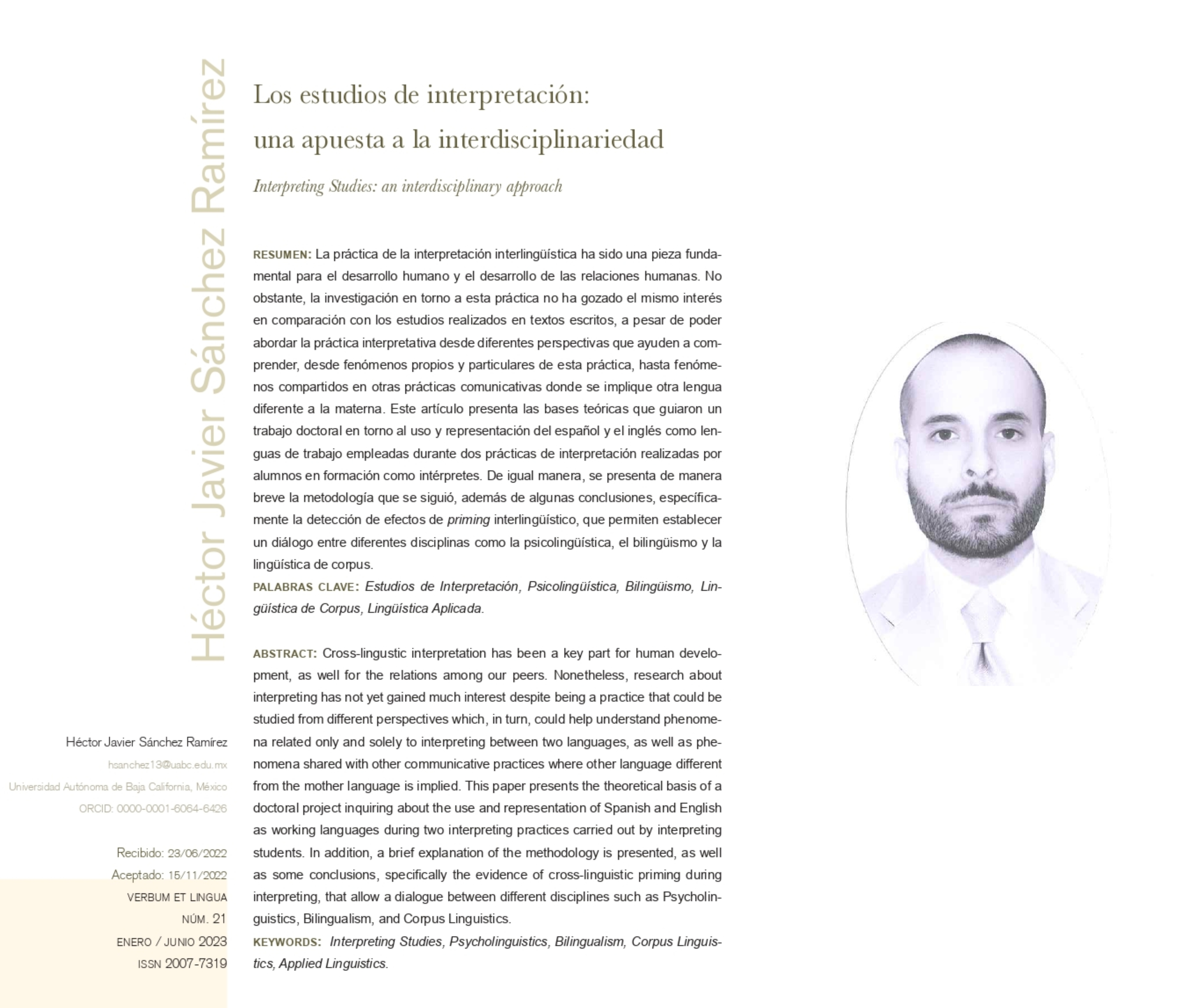 Descargas
Cómo citar
Sánchez Ramírez, H. J. (2022). Los estudios de interpretación: una apuesta a la interdisciplinariedad. Verbum Et Lingua: Didáctica, Lengua Y Cultura, (21), 53–68. Recuperado a partir de http://verbumetlingua.cucsh.udg.mx/index.php/VerLin/article/view/191